Posted by Everyday Healy on November 5, 2009
You were absent from school yesterday. I think you need some rest. And, you start taking medicine once you realized your flu was getting serious. Thank God! Thank God that you had recovered today.
Then, you went to school happily after a fun ride on your "Happy" horse. Thank you, Happy Horse. Now, we had came back from the art class. And look!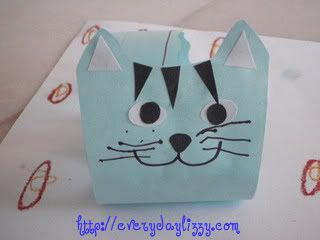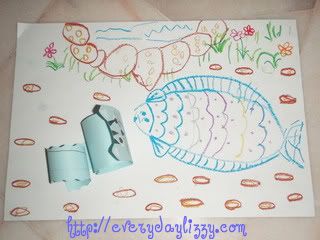 Nice paper cat waiting to eat the big fish that has jumped out from the pond. Really very creative and nice! But it's again more of teacher's work. You don't even bother to hold the crayon nicely. Looks like you have totally lost your interest for art class. Yet, mummy heard this after we had get up in the car: "I want to paint at home."
Alright! I got it! Most probably we will stop the art class soon as mummy feels you need more rest too.
Just…Mummy feel so sorry for your teacher. She is a nice teacher. Thus, we shall keep in touch. May be you might be more than willing to attend the art class again in a few months time. It's possible as your interest just keep changing. Even your preference of color too. Hehe……