Posted by Everyday Healy on November 8, 2009
You were so excited when we were in the mall yesterday afternoon.
Liz:"Wow! Christmas tree!" While we passed by Laura Ashley.
Liz:"Wow! Santa Clause! (It's a cup with Santa Clause face on it) Christmas is so nice!"   You straight away walked into MPH by yourself once you saw all the Christmas cups, plates, and so on displayed nicely at the front of MPH.
I get it, baby!  It's time to do this.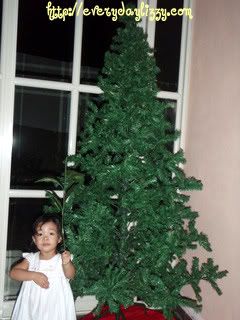 So, this is what we did on yesterday's late evening. Took out our Christmas tree at home and set it up.  😛
You were so excited! Can't wait to finished up all the hangings. And, you actually hanged all the balls beautifully on the bottom of the tree while mummy was busy setting up the lighting onto the tree.
Then, you said:" Mummy, I can't reach it. It's too high."
Mummy:" I guess that's it for today, baby. We will hang them bit by bit in the coming weekdays."
Liz:"No! I want to do it now. I want to put the star on top."
Mummy:"Alright! Mummy promises to let you put the star on top while we are going finish decorating. Just go to the bed now, ok? Mummy is so sleepy."
Liz:"Ok."
Gosh! I just realized that my little princess has already come to the age that can even decorate the Christmas tree on her own. So fast?
Besides, you were so happy to see the big Christmas sock. So, you have been held up high cause mummy knew that you want to hang it by yourself. Then, you were clapping and jumping for joy while mummy put up the Christmas Garlands. So sweet! Another precious memory.  😛
Mummy just want you to know that Christmas mean even more to me now as I heard you laughing in your dream last night instead of crying or shouting in anger most of the time.

That's it till now. There are still a lot more to be done. Welcome Christmas!