Posted by Everyday Healy on November 9, 2009
You are kind of busy this weekend. Busy decorating Christmas tree and busy playing with your new favorite most of the time.Well, at least you learn a lot from your new toy. And, you get to shop at home. Hehe……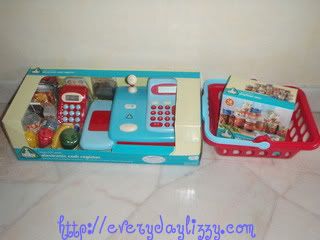 Full set RM 139, not including battery.And, the shopping basket is price at RM 19 and RM 49 for a box of plastic tiny cans. Gosh! This is as posh as Ferrari parts. Luckily they all came together  FOC with the cash register set. LOL!
First you learn how to operate this till including scanning the little cans and boxes with full labeling  Then, you learn to sum up the amount as the scanning, knowing where to press to open up the cash drawer, and swapping credit card. Cool! It's so real!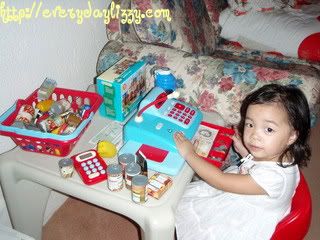 Then, you got money. You learn paying according to the amount shown. Collecting cash from the customers and paying back the change if necessary.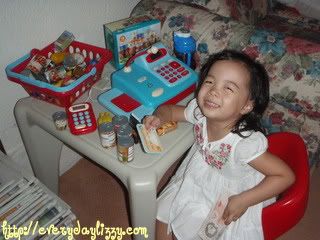 See… Even as little as 3 years old, you know how to appreciate credit cards. Hahahaha……
You really have lots of fun and gaining lots of  knowledge from this cash register machine.Good pick, baby! 😉