Posted by Everyday Healy on February 2, 2010
I want to step up the stool and wash my hands on the basin right after I finished drinking medicine. Suddenly, I slipped while trying to kicked the stool to the front of the basin. Waaaaaa…… Kak Sue quickly carry me up and said:"Mam, blood!"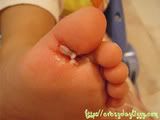 This cut on my toe was so deep. But, look at that "Buds" rescue lotion that mummy applied on the wound. It was very helpful. I don't feel much pain. So, I am relieved and my tears just stopped flowing down from my cheeks. Then, I sleep. I slept soundly.
When I woke up this morning, I can even walk. I want to be brave. So, I am also very calm while my pead sanitized and applied the antiseptic cream for me just now in the clinic. Luckily no stitching. In fact, I need it. It is just too late. So, my pead said we can only leave it as an open wound and let it heal itself now. And, look!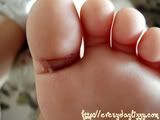 It's healing quite well. Thanks God! No more blood, so clean and drying up. Hooray! I am jumping, tip toeing, and walking like usual again. " I am a very sad bear, my sore toe. I can't put my boot on, my sore toe.How it got so big and red, no one seems to know. That's why I'm a sad bear. Oh! Oh! Oh!"
Oh! Dear. Stop singing this song, baby. I know it's your favorite. But, what a scary coincidence. Mummy was so upset about the sad bear song and the stupid plastic stool. So that's what happened on this Cyber Monday. Huh? What's that? Only mum knows. But, this is absolutely an unforgettable Monday night.