Posted by Everyday Healy on February 17, 2010
Liz:"I want to go "Kai Kai"."
Mummy:"New Year is over, baby. Let daddy go to work. You stay at home and mummy play with you, ok?"
Liz:"No. I want to go "Kai Kai"."
So, mummy tried my best to have fun with her. We were playing with IQ games, then daddy's sunglasses and the camera. Look at this.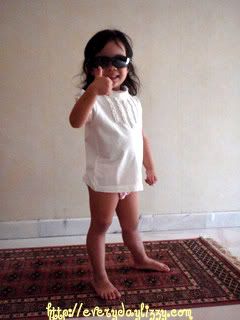 Yeah… It's such fun! One thumb up. Hehe……
You look exactly like daddy when you put on his sunglasses.

Alright! Daddy can go now. Thanks, baby. Thanks for your understanding. Mummy is so proud of you. Well, enjoy your afternoon nap now. Daddy is going to take us out again in the evening when he come back.