Posted by Everyday Healy on March 10, 2010
Liz:"Mummy, I want to buy this, I want to be like Jen Jen. Jen Jen drink this milk in school."
Mummy:"Jen Jen is another friend in school?"
Liz:"Ya. I want this milk like Jen Jen one."
Mummy:"Ok. Ok. We buy this milk."
That was Monday night when daddy brought us to 7 Eleven. Then, mummy took out the straw and Elizabeth poke it in the straw hole. Suddenly…
Liz:"Oh, No! I want to bring it to school. I don't want to drink it now."
Mummy:"Huh? Jen Jen bring it to school everyday or just sometimes?"
Liz:"Everyday. I don't want the powder milk anymore. I want to bring this "cow" milk to school like Jen Jen."
Mummy:"Ok. I get it. Mummy will buy some new ones for you tomorrow. Finish this first since you already open it, ok?"
Liz:"Ok."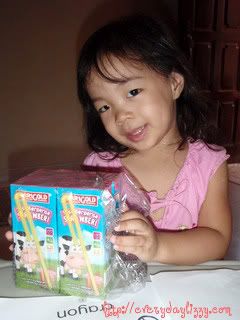 So she got this the next day. And, she was so happy to bring one box to school this morning. 😛
But, when she came home…
Liz:"Mummy, today Jen Jen bring "daddy, mummy, family" milk to school, not "cow" milk anymore."
Mummy:"So, you want the "daddy, mummy" milk now?
Liz:"Ya."
Mummy:"Ok. Ok. Mummy will buy for you after you finish this cow milk, ok?" I think you mean Dutch Lady's UHT milk packing this time.

Recently, you also insisted that you want to wear cap like daddy even if you are wearing a dress. And, your will follow our shoes choice too. You just won't wear sneakers if mummy and daddy are both wearing sandals. Luckily daddy only wear tuxedo shoes while going to work. Not in any leisure time when he go out with us. LOL!