Posted by Everyday Healy on March 9, 2010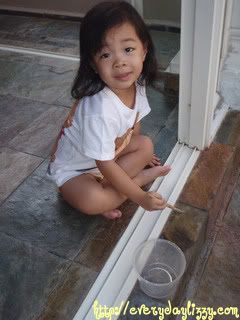 Not bad! Time flies and you were helping grandma to paint the protective layer for the floor yesterday.  You did it well. Good job!
You are curious about everything we are doing. And, activity like this that is totally unfamiliar will mostly attracts your attention. And, you will never say something like:" I want to play, mummy. "
Instead, you will offer to help and say:"Grandma, can I help you? I want to help you." This must be part of your talent. Mummy realized that you are a great communicator. You are so good at twisting your words to your advantage even at the age of 3.
Frankly, mummy is kind of proud and enjoy it so much. Very cute. Just don't tell lie, ok? Stop doing that. As that's quite worrying.