Posted by Everyday Healy on May 10, 2010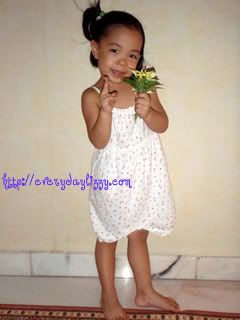 Liz:"Such nice flowers. I like yellow flowers. I want to tie them on my hair." LOL!
I woke up early in the morning. Sitting right in front of the TV for a few cartoon shows. Then, "Kak Sue" take me to the garden to pluck some yellow flowers. Later, I took some porridge with my favourite soya sauce.
Then, I enjoyed "story linking" with mummy in the afternoon and "Kak Sue" teach me how to make a nice handbag before I went to bed for my afternoon nap.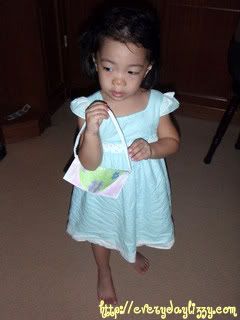 Liz:"I like my new handbag so much!

 But always broken one." (The handle always drop out) Hahahahahaha……
See, it's such fun to be absent from school! :wink:By the way, I am getting better now. No more fever and need less tissues to clean my nose.