Posted by Everyday Healy on May 13, 2010
I was kicking, crying and shouting every now and then last night. I never had a quite and sound sleep ever since I got sick, I just keep on having bad dreams.Then, I woke up with a bad mood too.
Liz:"I don't want to go to school. I want to go "Kai Kai" ( go shopping or outing)." LOL!
It took mummy about 20 minutes to keep on explaining to me why I got to go to school. But, I just couldn't be bothered. Eventually, I was being threaten. No TV, no playground, no shopping, no toys, if I am not going to school. Not again! But, it worked. Immediately I open my hands wide and big to let mummy carry me down from the bed.
Liz:"But, I want to go walk walk."
Mummy:"Ok."
Then I also asked for vinegar with honey drinks ( More honey, less vinegar mix with a cup full of water. Natural  fatburners. Ha! I just love the sweet and sour taste. It's simply irresistible! *Slurp*) and "kaya" bread before I brush my teeth.
So I get all I asked for including get out from the gate and walk along the roadside for 10 minutes before I get into the car.As usual, the walking made me feel so happy. Want some "kaya" bread? Mmm…… It's yummy! 😉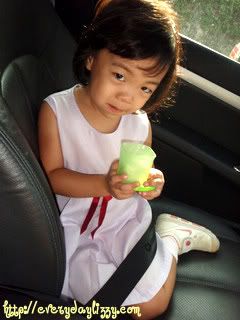 Finally, I recovered and get back to school again.