Posted by Everyday Healy on June 29, 2010
We did not celebrate father's day as Elizabeth got Coxsackie 3 weeks ago. Thus, she just start schooling again since yesterday. Poor dad! But, if we were to buy daddy any present, the electric cigarettes would be the best gift to save his health and protects our health too, especially for little Elizabeth. Hahahahaha…… (I am serious!) Hahahahahaha…….
Anyway, she recovered within a week. Not bad at all. Mummy just want her to regain her good health before she start mixing with friends in school again. Also to protect the little ones in her school from getting Coxsackie.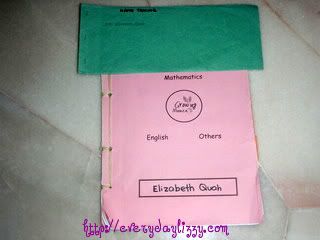 Then, Mummy got this since yesterday. It's her paper work in school from January to May. It reminds me of her teacher's comment during the parents meeting since May, "she don't like paper works. She prefers activities. We are still working on it to get her likes her paper works."

Luckily, teacher showed me her works in June this morning. It seems she has improved a lot.  😉
Mummy was even more consoled this afternoon when I was told by her teacher that she has done 4 paperworks this morning. Surprise! Surprise! What a vast improvement! Also, I realized she seems enjoyed the coloring, games, puzzles and other home activities more too since yesterday. *Sigh*
God blessed! Keep it up, baby!  Mummy is so proud of you! 😛