Posted by Everyday Healy on July 10, 2010
I always sleep so late. Even though I was forced to get up to the bed on 9.30 pm. But I can still roll and play on the bed until 12am. Hahahaha……As a result, I refused to wake up earlier together with mummy when daddy is still on the bed. LOL! Thus, mummy will only wake me up after she had brushed her teeth and changed until last month.
Things changed since the beginning of this month. Well, I still had dark circles under eyes. As I still sleep at late hours. However, I like the offer of brushing teeth together with mummy now. And, I finally make it a routine to my brush teeth every night too.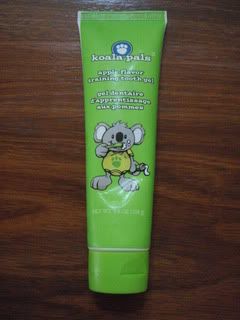 Anyway, it all began with this Koala Pals Toothpaste. The Koala bear, the green packaging and the fresh and sweet apple taste simply matched all my likings. Moreover, it becomes icy cool as mummy place it in the fridge. That's a wonderful experience. Thus, I like brushing teeth now.  😛