Posted by Everyday Healy on August 12, 2010
Since 3 months ago, little Elizabeth starts reading quite well. I think she can easily recognised up to 100 or 200 words now. This little princess loves to read the words on the billboard too. Frankly, mummy enjoyed her reading so much. Mummy feels really proud when I watched her reading story books. LOL!
By the way, I think bedtime stories with large printing really help her to start reading earlier. This little princess is trying to form words too while writing. She is still quite weak in spelling. Mostly, she will join some alphabets together. Sometimes, it is as weird as something like this — bcbsnc, which might seems nothing close to the word she is trying to write. Somehow, if it's something like "momthr", mummy can tell even if my little princess didn't tell me it's "mother". May be mummy should buy scrabble to strengthen her spelling. 😛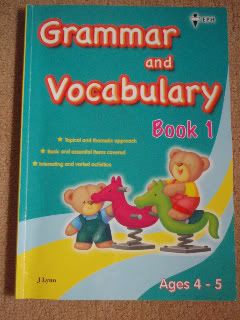 Anyway, little Elizabeth get fantastic grammar practise from this book. It ain't easy to find good grammar exercise book for little one below 6. And, this one from Popular is excellent.