Posted by Everyday Healy on September 1, 2010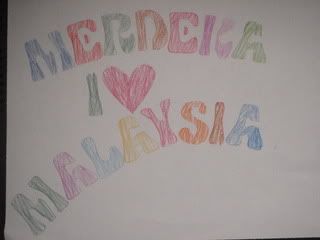 I am glad Kak Sue drew these words for me. It's "Merdeka! I love Malaysia". Hehe…… So what's up on Merdeka Day?
We had a wonderful dinner at this place again last night.
The chicken tender and the fries are always  my favourite. Mmm…… Yummy! 😛
By the way, I made my own chocolate too. But, I can only show you next time as this is just the first trail so mum never took any picture. LOL!Er…… Let's see if there is more…… Yes! There is more.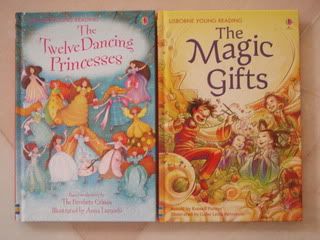 I love these 2 new story books so much! I just keep on bagging mum to read for me. And, I am proud that I can also read by myself now. 😉
Liz:"Mummy, how many stories are there in these books?"
Mummy:"Only one story for each book. They are long story."
Liz:"But, I also like a lot of stories in one book."
Mummy:"Oh! So you don't like these 2 books from Usborne?" 😯
Liz:"No. I like them so much."

Yeah… At least you never complain their words are too small like Peter and Jane. LOL! Anyway, books are always better than toys for the moment, right little book worm? Hahahahahaha……
Somehow, I guess daddy just don't mind to forgo a Phillippe Patek or IWC, just to buy you all the books that you wanted for a life time instead. As we really enjoyed your reading with such a sweet baby voice. Never thought that my baby will love books so much and start reading so well at such a young age. That's a wonderful surprise! 😉