Posted by Everyday Healy on September 3, 2010
I went to the Hindu temple which granny and mum prayed there for years last Saturday. It's a yearly occasion where the devotees have to walk along with a few nice chariots that pushed by nicely decorated cows. It's like a mini parade.
It's really something new and enjoyable as this is the first time I wear Indian costume (Only the skirt as the bareback top is too loose). It's also the first time I sat on the chariot together with other kids throughout the parade. The big cow is just right in front of me. I even saw it "wee wee" and "pooh pooh" on the road. Ha! Interesting!
So, mummy started shooting for remembrance. But, her Olympus was not with her. She was forced to use her Nokia. Kind of dark and blur. Still look blurred after a few shots.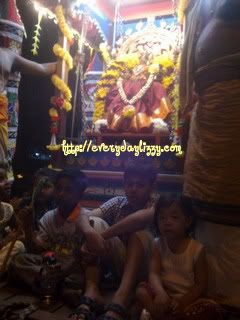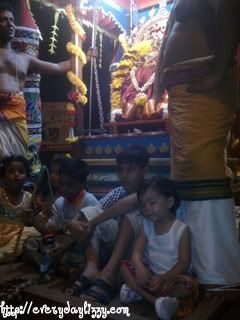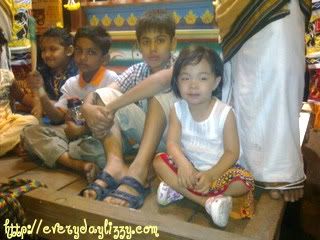 Luckily, photobucket came to the rescue with its edit function. Well, please don't forget to bring your Olympus out anymore, mum. May be you should even consider buying the Canon camera. I mean the EOS. That's cool! I can definitely look nicer in the picture. Hahahahahahaha……