Posted by Everyday Healy on September 8, 2010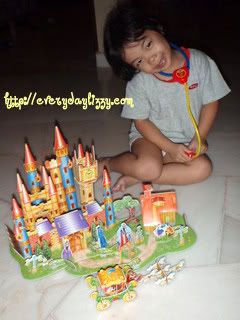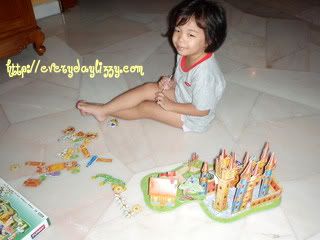 Look! My new castle nice aye? it's build from a 3D puzzle that mum bough long ago. Can you see it? There is even carriage, horses, the 2 stepsisters and the stepmother. And, the prince charming is wearing the glass slippers for Cinderella.
This puzzle tells a wonderful stories too. It's the story of Cinderella. My favourite fairy tales. Mum and granny like this puzzle so much too. 😉
However in mummy's opinion, modern Cinderella should ride on the elegant Ferrari. Hahahahaha……
Moreover, you always tell mum you want to become a "fixer" recently. May be you will enjoy put all the Ferrari parts together and make it into a nice Ferrari if mum bought you a model car set.
But, may be not now. As this beautiful 3D puzzle is all done by Kak Sue. You just enjoy starring at it. Ha! Obviously, you are not a good "architect". Will you be a good fixer then?  
By the way, thanks to Kak Sue.