Posted by Everyday Healy on September 18, 2010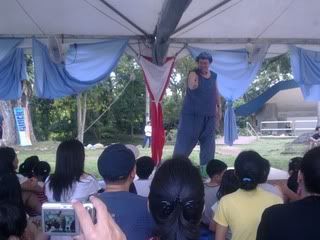 I like to follow all the actions and sing along with her."The turnip was stuck, the turnip was stuck, the turnip was stuck……Oh, Yes! Oh, No! Oh, Yes! Oh, No! " I am still singing this while I am in my bathtub just now after I came home from this International Story Telling Event held at Youth Park this morning. It was fun!
But, the weather was too hot. So I told mummy I want to come back earlier. Hehe……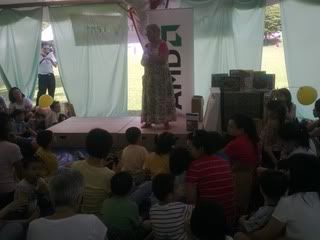 This is another story teller from England. In fact, I was first in this tent with Auntie Michelle. As it's too crowded so mum can only pass be to Auntie Michelle who is sitting at the front row so that I can enjoy the story. Nice story too. But, I like the turnip story best. 😉
So we came back around 2pm. Unfortunately, I am not feeling well now. Fever again! 😯
Obviously I can't stand the boiling heat at Youth park just now. But, I don't want to be sick!