Posted by Everyday Healy on October 2, 2010
Concert is coming. Hooray! Little Elizabeth always loves concert as she can dance and sing on the stage on this special occasion. This year, she get to dance with a partner for the song "Macarena". She also tell a short story individually and sing a song together with all her friends.

It's on the 30th of October. Thus, all of the kids were busy practising at school. Now, teacher already informed mummy that you need to wear jeans and white shirts. You don't really like jeans, may be because they are never as comfortable as  apple bottoms. LOL! But after some tough persuasion, you chose this in the end.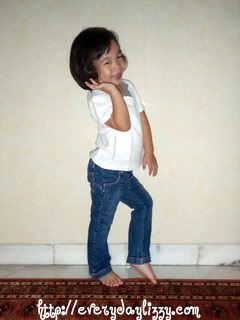 Don't you think it's too boylish, honey? Mummy just got to make a more persuasive excuse to get to wear something nice in the wardrobe cause daddy insisted. Change! Hahahahaaha…….
Now you know why little Elizabeth is such a vain pot. She just got that genes. 😉