Posted by Everyday Healy on October 5, 2010
No drawing were brought home yesterday. May be not yet completed. Again, this little cheeky fell asleep as soon as she got up the car. Mummy realized it's kind of tiring for her to stay at school until 4 pm. Also, she will cry that she don't want to go to school on Monday morning once mummy mentioned about she is having art class that day.

Anyway, she looked so down for the whole evening ever since she came back. Eventually, she kept bagging granny to cut her hair. 😯
Mum:"Why you want to cut hair?"
Liz:"Cause cut hair is fun."

Mum:"So, cutting hair is just to get some fun, is it?"
Liz:"Yes! It's fun!"
So be it! Granny just cut a little bit to make you happy.Hahahahaha……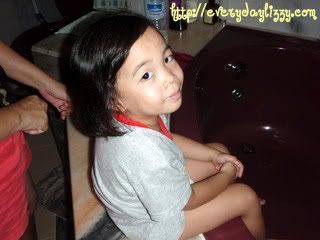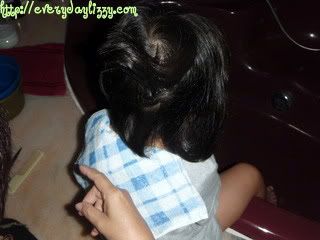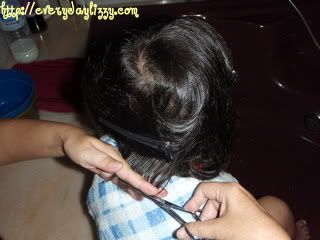 Don't worry, baby. We can stop the art class after this October if you really don't like it. And, if you are expecting a fun break, holiday is just around the corner. Mum will make sure you can enjoy something as fun as the Branson vacation packages.
In fact, you will have fun this month. Cause this weekend is Ashlyn's birthday and your concert or the Halloween party is already set at the 30th. Interesting aye? 😉