Posted by Everyday Healy on October 21, 2010
Mummy isn't always blogging recently. As mummy is busy catching up with some new home education plans for my little princess. Wow! Sounds so serious aye? Ha! But, this could be a great timing to input more into my girl's brain. As this little cheeky is such a good girl recently. Have a look!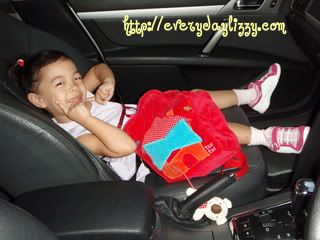 Isn't she so lovely? See… she even feel like making up and requested "kakak" to tie her hair this morning. Now, mummy is so console that my little princess started to enjoy schooling. She will have great mood almost every morning. And, mummy got no rejection from her any more when I asked her to do some worksheets, flashing cards for her, or playing some IQ games together after school, as long as she has some cartoon time or computer games time in a day.  😉
I don't know how long will this last.  But, I know she will "digest" anything that I squeeze in now easily. As children learn best when they are in a good mood. So, mummy came out with educational activities to teach her read, write or train her fine motor skills, concentration and patient everyday.
In fact, mummy is working hard in every way to make sure little Elizabeth can pick up Mandarin language now. So that she won't have problem in Primary one. LOL!