Posted by Everyday Healy on November 25, 2010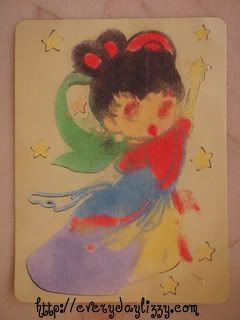 Yesterday was the first time I tried my hands on sand art. I guess I saw it before in the shopping mall. But since I am not so sure what is it, I never request to try.
Anyway, I was so excited when mummy brought it home. I like the coloured sand so much. They have so many colours like rainbow. So nice! I keep on pouring them on the "Chinese fairy". And look, she look so gorgeous now. 😛
Anyway, mummy said we should took out the stickers part by part next time. And, she promised that she will let me try it in the shopping mall which I can just pour the sand on it and pour those extras back to the container. Since I do not enjoy dispersing the sand evenly on the picture with my fingers. LOL!