Posted by Everyday Healy on November 27, 2010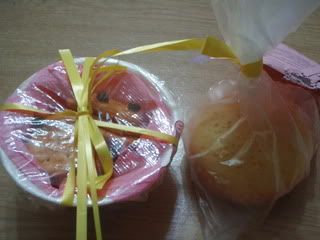 You might thought I bought these cake and cookies from the bakery. As a matter of fact, I made the steam cake together with my friends in school yesterday. Also, teacher taught us to make "spider treats". That's the name of the biscuits.
We learn to spread jam or kaya, add stick cookies and chocolate chips to the cracker and decorate these crackers like spiders.
Thus, I am so proud to present it to my mummy and daddy. The steam cake for mum and the spider treats for dad. When I realized grandma sure ask for it, I quickly told her I will give her book as present. Hahahahaha……
Thanks to holiday program. It's such fun! *Weee……*