Posted by Everyday Healy on November 30, 2010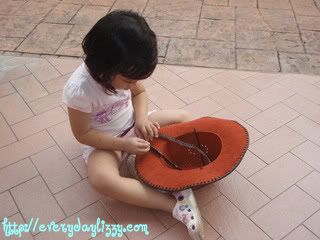 Did you saw the leader string that she put inside her cowboy hat? Let's have a closer look.
The first thing on the left is the leather string that I am taking about. She called it "Silly Snake". Then, the silly snake stay inside the hat like what we seen in the first picture on top. Another funny story made up by my little cheeky. In fact, it's actually a broken part of the hat. Hahahahaha……
By the way, she is playing happily in the garden with her "Happy Horse" and "Silly Snake", pretending to be a cow girl since one and a half hour ago while the sun is still hot. LOL! Girl, I think it's safer to apply tanning lotions for tanning beds if you wish to look tan. Playing under the hot sun is definitely not a good idea. Hahahahahahaha…………
She made a cowgirl craft whose name was Elizabeth this morning. Then, this Elizabeth cowgirl actually found "gold nuggets". Like what you seen in the picture above. Ha! And, she also get to ride on "happy horse" in the garden just now.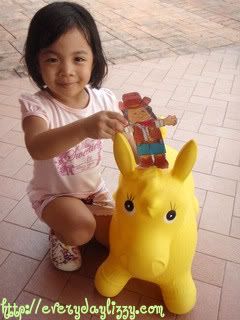 When a child playing pretend really got so much fun! Cute, aye? Thanks to today's holiday program "The Wild Wild West Adventure". 😛