Posted by Everyday Healy on February 26, 2011
I was building blocks since last few days. Nowadays, I can build something and make story about it like this.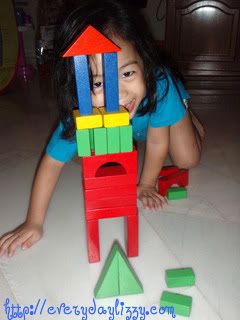 It's a train station. I created a train after I build a tall train station. Then, I build another train for mum too. Our trains pass the tunnel of the train station very fast.
We even had a race. Sometimes mum won. Sometimes, I did. LOL! That's so much fun! 😉
Alright! Build your wood or sponge building first before you are capable of building the real one, little architect.
Mum is so proud of you. 😛