Posted by Everyday Healy on March 1, 2011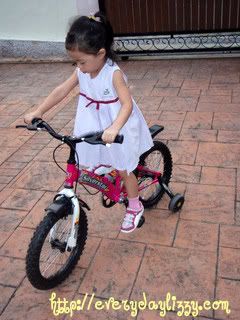 Great stunt, aye? I have done it on my motorbike too. It would be cool if I can do it on a horse too. It's even better if I got equestrian clothing, then I can be a real cow girl, Yee…… Haa! 😛
Since last week, this was what happened every morning before she goes to school. When she was 3 years old, she loved to have a long walk before she goes to school. Now, It's cycling.

She has no problem controlling the hand break now. She can stop the bicycle almost immediately. Somehow, she dare not cycle too fast as she learned that every fast turning will cause the bicycle tumbled around.
Also, she was extra careful while cycling beside daddy's or mummy's car as she was warned by mum when she accidentally scratched daddy's and uncle ZY's car last week.
This morning, she was asking for a bell to put on the bicycle. So that she can play pretend to be a mobile seller.
Mum:"That's a good idea. We will buy 1 bell from the bicycle shop this weekend, ok?"Liz:"Hooray! Thanks, mum!' 😉