Posted by Everyday Healy on April 5, 2008
Yesterday, mummy went shopping at Tesco. Tesco is quite far away from our house. However, every time Elizabeth's "Mamy Poko Pants" finished, mummy will surely look for it at Tesco.
I am sure everyone knows that some of the things in Tesco are really cheap. "Mamy Poko Pants" is one of it. The usual price for "Mamy Poko" at Guardian, Giant, Pakson, Cold Storage or shall I said most of the convenient stores, supermarkets or hypermarkets is about RM 21.90 for the XL size 12 pieces pack. But, Tesco is only selling at RM 16.40 each.
What a big difference, isn't it? Thus, mummy will always buy "Mamy Poko Pants" from Tesco. Mummy will buy at least 4 packs at one time. Sometimes, mummy even buy up to 6 packs.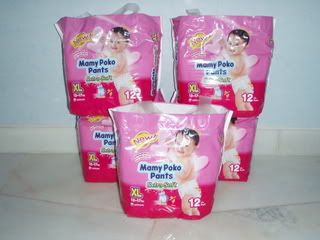 This time mummy bought 5 as that's what all left on the rack. hehe…
Anyway, don't buy the large pack. Most of the time, the large pack is much expensive than the small pack at Tesco.