Posted by Everyday Healy on March 19, 2010
Sigh… No more fever. No more runny nose too. Just a little bit cough.  :)Yesterday, you only took some porridge with soya sauce. Today, you enjoy fish and rice just now. It's good to see you enjoying your meal again. Do you miss French Toast?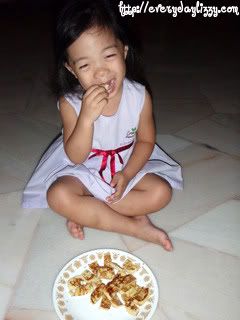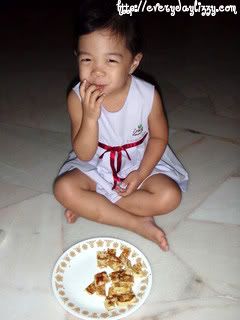 That's what mummy took last Thursday while you were eating breakfast before school. So cute! Finger licking good aye? Do you want some more?French toast seems to be your favorite now. But, mummy have to be extra careful in adding fresh milk to the French toast. Even though it's not eczema, but too much fresh milk will still cause rashes on your body. But so far so good.  😉
I guess mummy is going to make some French toast for you again before I leave to Spain. Also, mummy already spare mushroom soup and fresh fish in the fridge. Lastly, I am going to get you some watercrest on early Sunday before I depart.
Love you, baby!