Posted by Everyday Healy on August 7, 2010
Initially, I love this.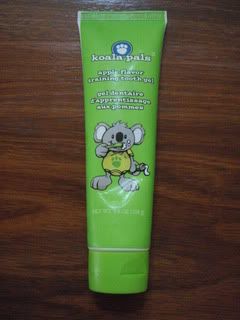 But after a few weeks ……
Liz:"Mummy, I want my old toothpaste ( First Teeth) back."
Mummy:"Why?"
Liz:"I don't like this apple taste. Too sweet."
So, mummy tried once. It is very sweet. But, my teeth does not appeared clean and bright while using "First Teeth". May be I should try other kids toothpaste. No more baby toothpaste. LOL!
On the other hand, I love this Koala Pals Tear Free Body Wash so much.
Really no pain at all in the eyes when I accidentally touch them with my fingers that full of soap. No itchiness for my skin too. Quite moisturizing I guess. I like the cartoon character of the "crocodile" on  the bottle too. I am willing to forgo the playing moments in jacuzzi tubs  and only bathe under the shower most of the time now. So mum said:"Thanks to Koala Pals Body Wash."
By the way, I want the Yellow bottle "Koala Pals Tear Free Hair Wash" too. But mum use this body wash to wash my hair as well. To her, it's good enough. As this is the first shampoo that managed to make my hair totally tangle free. It feels so smooth. 😛