Posted by Everyday Healy on July 31, 2007
Hi friends, I've blog less these days. Wondered why? Oh… because I am so busy with this chicky baby, she's getting very active nowadays. And, it's kind of tough for this first time mummy now. Ain't easy to handle at all. ( Actually, I'm also quite busy in work). 😉
It's the 4th week of her 7th month now. "So, how's is this girl doing?" You might asked.
Elizabeth? Oh!Nowadays……
1) Everything that gets into her sight, she wanna touch and put it in her mouth. So, most of her toys must wash or clean almost everyday. But, not by mummyler… hehe…
2) She still like to stick with her mummy… But, the most wonderful thing is… She had learn to kiss her mum now. So, how doesHealy mummy feels? Oh! So Omph…, She feels like floating in the air every time she was kissed by this little cutie!And, she practically taking less sugar nowadays. Why? Cause she already feels so sweet! hehe……
3) She like to watch TV, just like both mummy and daddy… Too much TV no good is it? radiation can kill her brain cell is it? I know, I know… But, that's the only time she sit down quietly. *mummy just can't help but start jumping for joy* (Too much of Elizabeth can kill her mummy, that's something you don't you, right?) haha………
4) She wants to walk. She loves to walk. She prefer to walk on her own, rather than being carried by anyone of us. Walk, Walk, Walk! " Pretty women, Oh, walking the street, Pretty women!" haha……. Heard this b4? Like it?
5) She will asked to play with water in the pool at least once a day. She loves to splash water with her leg. So, I'll hold her by just placing her legs in the water to let her have fun. She knows how to request for this routine. See how much she enjoy splashing water. Thus, I'll make sure she get one shot everyday. And, as her mum, I precious this moment too. My heart melts every time I see her smile, laugh, shout and getting excited with this trick. 😛
And, did I mention chicky? Yeah! Elizabeth is extremely playful and tricky as well.
Don't believe it? See how she reacts when I place a handkerchief on her head…..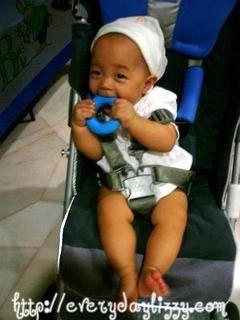 Is this smile chicky enough? How about another shot?
haha….. That's Elizabeth! ( I think all the uncle, auntie here will like you so much, like those auntie, uncle, ko ko, jie jie that you saw outside. ) Right, buddy? Frankly, I love her characters so much… Tough… smiley face… playful… tricky… determined but not stubborn…. happy most of the time…
And, I think she's much more better than her mum in term of characters… hehe… Shameful mummy! hahahaha…