Posted by Everyday Healy on April 13, 2008
Last week, daddy just bought an expensive rocking chair for Elizabeth. But, she needs a bicycle to have some outdoor fun too. These days, she keep pointing to the bicycle whenever she saw it.
Thus, mummy bought a new bicycle for her this week.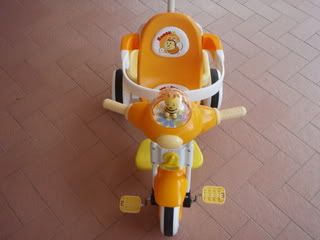 There is an extra steel given to fix under it to make it into a stay put rocking bicycle. Innovative and lovely! 😛
With "Push Handle", "Feet Rest", basket at the back and a few choices of music by simply pressing a button infront!
Elizabeth loves bees. It's all because of the cartoon "Bee Movie". So, mummy get a bee bicycle for her. Mummy finally found the product from Taiwan at "Teik Seng". The quality is so much better than those form China. It's solid and has fine workmanship.   And, the price different is only RM5.
Anyway, our house seems full of toys now. But, our initial plan is to add in nice furnitures not toys. May be mummy and daddy has spend too much on toys. If mummy really want to follow the initial plan, then mummy got to look for discount furniture now.