Posted by Everyday Healy on October 28, 2009
Mummy was quite worried this morning. As she cried and refused to go to school. I guess the fell really frighten her. Somehow, she was smiling while moving forward to mummy's car and happily waving good bye to her teacher too while leaving the school after school hours. Now, mummy has no worry at all. As Elizabeth has secure her front tooth. It's still there. 😉
In fact, little Elizabeth was having a great time, a really great time playing with her cousins on Saturday night.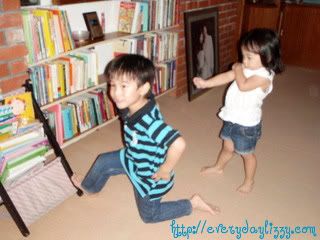 At first, she was playing rough with Justin before we go to dinner. She kept sticking with him in and out. They are trying to eat the same food at dinner too. What a "Gang"! LOL!
So when mummy thought she was simply more click with Justin…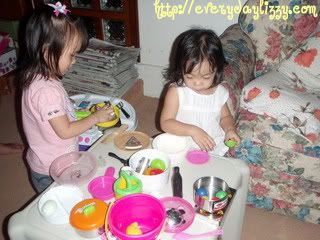 She changed her mind and was enjoying herself playing the cooking stuffs with Isabelle after we came back from dinner.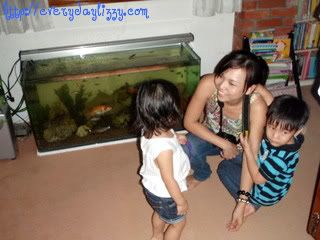 And look! She can even communicate well with her "ku ku" that night. Eventually, she just want to follow her "Gong Gong" home. Unfortunately, she got music class in the next morning. So, we let her cry for a while as they all leave.
But, it's a good idea to let her stay with "Poh Poh" for one or two weeks when my SIL come back for holiday again. So that mummy and daddy can go to fantastic places like panama city florida to have a romantic vacation for only 2 of us. Hahaha……
By the way, It's kind of amaze to see little Elizabeth playing like a kid now. She definitely need more friends.