Posted by Everyday Healy on December 1, 2010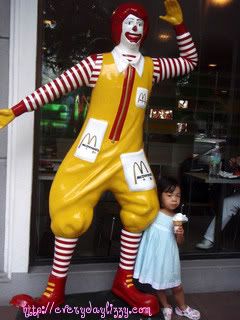 I went to McD on Monday evening. Yes. To buy Sundae cone. But not just not. I got another important mission. Yes. To play at the playground. Still, there is something more important.
Nope! Not to take photograph with Mr. McD! It's to make booking for my birthday party. Yesterday, Mum had ordered the birthday cake that I wanted too.  Yipee! 😉
Mum thought I can just celebrate my birthday with my family members this year. But, I want my birthday party! Especially it's in McD. I am so excited! I already sent the invitations out to most of my classmates yesterday. One reply of absent this morning. So disappointed!

Hopefully more good news are on the way. See you this Sunday, Mr. McD and all my friends. 😛