Posted by Everyday Healy on April 14, 2008
Do you buy educational toys for your children, especially toddlers. I believe in interactive toys. Thus, most of Elizabeth's toys are those that so called "educational toys". Anyway, we should find the interactive toys that suitable for our kids' age group.
Also, music can be very stimulating. In my opinion, music has the power to stimulate our babies brain function. So, we should look for toys with interesting music. In this context, mummy likes "Leap Frog" so much!
I am amaze with the "Leap Frog" creative ways of music presentation. Somehow, it is so different from others. Very joyful! Something that can really make us dance. 😉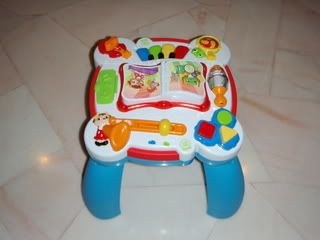 I am so glad that daddy bought the "Leap Frog" learning table for baby Elizabeth as her 1st birthday present. Very interesting! It's one of her favorite. Besides, it is just as solid as billet grilles. 😛