Posted by Everyday Healy on April 18, 2008
Since Elizabeth has recovered from her flu, mummy wondered are we going to shopping again this weekend? Even if it's a window shop, my little shopping queen just won't mind too! 😛
Last Saturday, Elizabeth was enjoying herself at Gurney Plaza.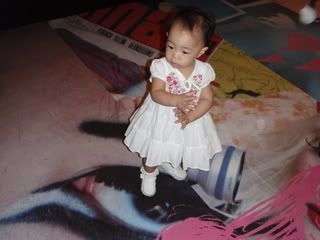 LOL! Are you stepping on someone's eyes? Look down, girl! Didn't you see that big eye? hahaha……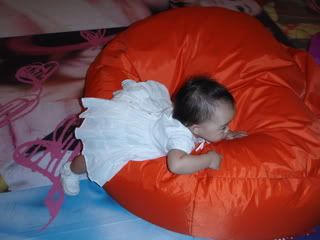 This is colorful. Lovely! "Mummy do you want to join me?" (Yeah… Thanks to MAC make up road show. This is one of the colorful bean bags placing on the floor of its booth.)
My girl is a shopping queen. She loves shopping. Almost every week she will at least get a chance to visit one of the shopping mall in Penang.
Mummy and daddy like to see my girl smile and laugh while hanging in the shopping mall. She became very excited and active as she entered the mall. May be there is always so many things to see and touch in the shopping mall.
After all, kids learn when they see something. Elizabeth got a chance to feel whatever she touch too! At least not as boring as reading ABC. 😉