Posted by Everyday Healy on April 17, 2008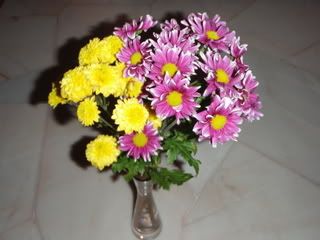 Elizabeth likes flowers. Like mother like daughter. Mummy, granny and baby Elizabeth all like flowers. Basically, most of the ladies like flowers too. Flowers are girls best friend. 😛
Thus, mummy planned to buy some flowers home while I went out for marketing this morning. As Elizabeth likes to have flowers in the house. Since she is sick, the flowers might cheer her up.
In fact, flowers have healing powers. Researches show that just by looking at flowers will change our mood. We feel happier with flowers around. Thus, flowers can be a healthy gift for patients. Besides, flowers like lavender, chamomile and blue lotus even contain healing properties.
Anyway, mummy was so careless. Mummy straight away drive home after marketing. I totally forgot about the flowers.