Posted by Everyday Healy on November 2, 2008
Previously, Elizabeth always has one pair of walking shoes and one pair of sandals. That's it! As babies will soon wear off their shoes. Probably within 3 to 4 months. So, not too many shoes. But, it has to be good one.

Somehow, It' ain't easy to find a pair of walking shoes that can match all dresses and pants. Mummy was lucky to get one of this shoes from Nike during last season. But, not this time. Also because as a growing up toddler, she needs other dainty shoes to match her princess style dresses. hehe……
So, I got her a pair of Nike sport shoes again. Same design as the old one, just different color. Then, World of Cartoon is on sale. There are nice shoes for little girls. Some lovely and very cute party shoes from Tenderly. Just like the doll's shoes.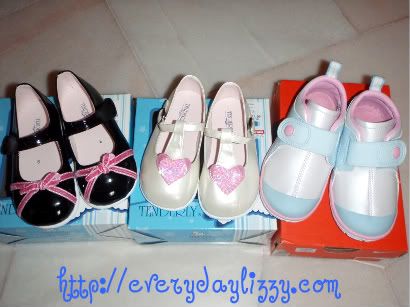 Fantastic, isn't it? Mummy knows these party shoes has no lasting quality. But, still soft. And, lovely! 😉
By the way, each of them is in different size. The black Tenderly is size 6 (still very big), the white Tenderly is size 5 and the size for the baby blue Nike is 8C. But, she is wearing 6C now. So, it's 2 size bigger? Yeah… the size 8C and size 6 are 2 size bigger than her actual size. Hahaha…… It's just nice. Mummy can just keep it for CNY if they can't fit her now. LOL!