Posted by Everyday Healy on November 27, 2008
I doubt you know your 2nd birthday is only 1 week later. Somehow, mummy still remember you had a great time in last year's party. So, don't worry. You are going to have fun again in no time.
Mummy has yet to buy any book on cupcakes. Even the order of your birthday cake is not done yet. Nothing to worry. Everything will be on time and it has to be something you like. So, mummy decided to bring you along to choose the birthday cake on your own. How about that?  😛
Almost everything is her own choice now. She just know what to choose for herself. She chooses what she wants to eat, when she wants to sleep, which movie she wants to watch, who to accompany her, which book she wants to read and which toys she wants to play. And, I think I can trust her taste of preference even in terms of chioce of fashion.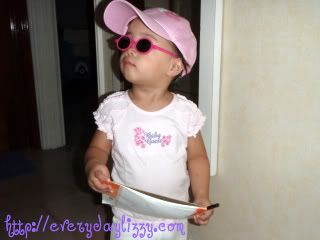 LOL! Are you drawing or posting? Cool! Hahaha……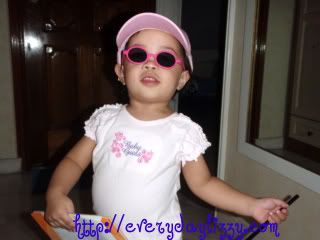 So… Do you like my style?
Look at my cheeky girl! She got her own sunglass and cap. She will wear them whenever she is going out. And never simply take them down anymore, not until she reached home again. Well! At least, the outcome is just as stylish as she thinks. So cute!  😆
Frankly, she is a sporty girl. And, she really has that sporty look. I am sure she will certainly looks fantastic in Berghaus Clothing when she grow up later. 😛
Daddy must be happy as that's what daddy always wish for. LOL! But, mummy does not worry about Elizabeth either. She will not grow up to be unfeminine. As she also like scarfs and dresses so much. *Sigh*