Posted by Everyday Healy on June 2, 2009
She has fully recovered from flu on the 30th of May. Just 2 days. She certainly grow stronger.

So, we went for shopping at Tesco on Sunday. As little Elizabeth said she wants to buy toys. See… daddy and mummy will always try our best to fulfill her simple requests. It's good to let her make her own decision since young. So that she always know what she wants in the future. More goal orientated. Hehe…
And, even someone who is very goal orientated needs creativity and dedication or concentration to fulfill the aim especially in career.  Thus, we bought this.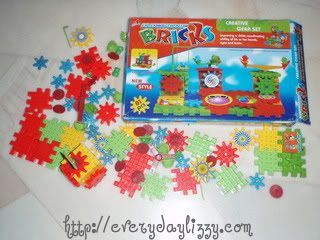 Though that mummy can do it together with her and she will learn to fix it. Also, she shall be very happy to see this thing moving after we had complete the fixing. End up, mummy and "kakak" have to do the job. And, we are still cracking our head to complete it. Ha! Obviously, this is too hard for this little girl. Even for mummy and "kakak", it just ain't easy at all. Hahahaha……