Posted by Everyday Healy on June 3, 2009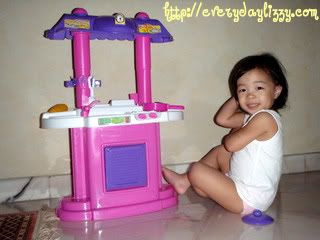 Nice, aye?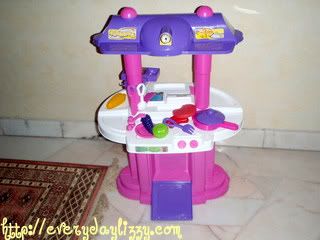 The Kitchen side……
Right on the other side, we have cashier machine, weighting machine, and some coins.
We also bought this from Tesco. As you can see, it's a 2 in 1 Kitchen and Stall set.
For the first 2 days, she was so happy. Busy cooking for everyone in the house whole day long. She also invited mummy to be the chef and she will be the customer. So, the whole game will be whoever ordered the food needs to pay the seller ( Yeah… need to pay as there is money in the set), which is also the stall's owner and chef. Er… remember to collect the used plate, knife and fork , then wash them under the basin, ok? Hahaha……
But today, she just stop by the kitchen for less than 10 minutes. OMG! So, what's next? Barbie doll? How about we just utilized what we have at home. Playing with the real things instead of toys. May be other role play?
For example, baby Elizabeth can become the beautician, and mummy will be your client. You can offer your client lifting massage, treatment for acne, whitening and slimming. Moreover, this time you will make lots of dollar notes while your client sign up for the expensive courses. No more coins. How about that, baby? Fun? Hahahaha……