Posted by Everyday Healy on June 18, 2009
So, how's the 3rd day in school? Woke up, get changed and waited at the door happily. Can't wait to get down as the school teacher open the car door and greet her. Wow! Amazing!
So… "Bye baby! See you later!" mummy said.
"No! Mummy……" Little Elizabeth cried immediately.
The school teacher laughed and quickly carry her into the class. On the other hand, mummy stop my car aside and listened. After about 2 minutes, I leave as she stopped crying.
"Oh! I am sure you will enjoy your yoga class today. Have fun!" 😛
Mummy is right. She seems very happy after school.
By the way, Mummy actually buy her some "fancy name stickers". And, she likes those with dogs. She said:" The puppy is so cute!" LOL!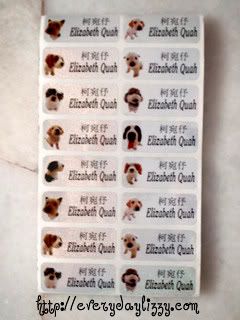 What's these for? At least something new for her to show the teacher. Might be a good trick to motivate her to go school. May be later mummy will even give her some stationery to give her friends. As she still don't know how to make friends. Hehe……