Posted by Everyday Healy on July 3, 2009
She was such a good girl yesterday. As a reward of no more crying for mummy while reached the school, mummy promised to bring her for shopping to get her a new pair of sunglasses. As her old sunglasses was broken. Also, this little vain pot has certainly become a shopping queen now.

Taa Daa…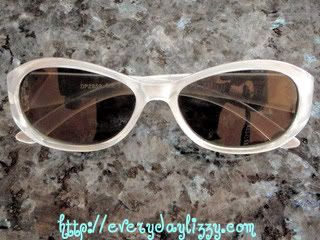 It's from World of Cartoon, RM 19.90. And, that's mummy's favorite color. White! 😉
Well, it seems that she enjoyed shopping for food more than anything else. And, out of so many things, she picked 2 tins of Anlene. Obviously, she remembered. She always loves to exercise together with Michelle Yeoh when the advertisement of Anlene is going on the TV. So, that's the power of advertisement. Of course, mummy put it back before we pay. Hahahaha……
And, she put back all the thing that we took. And said:" I don't want this."
"Alright! Just more junks, right?"
Help! Anyone got any suggestion for the best fat burner? Hahahaha…..
By the way, she did put 1 box of Soya Bean Milk into the basket before we pay. She said she want that. Well, mummy don't really see her drinking Soya Bean Milk when she was offered to. So again, mummy put it back on the rack, without her notice of course!
Then, we happily came home. And, mummy feels so bad when she suddenly asked for Soya Bean Milk after she finished her bath at about 7pm in the evening. Amazing! She can remembered what she "bought". Luckily, she never ask for Anlene. So sorry, dear! Hahahahahaha…………