Posted by Everyday Healy on July 21, 2009
For the whole last week, she really can eat, man! She just keep asking for food non stop. Also, she is eating a lot of junks. Mummy wondered how long will this continue to be. Looks like she might need a bigger pants soon.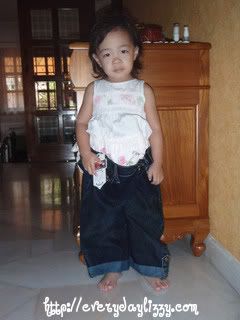 How about that? Big enough?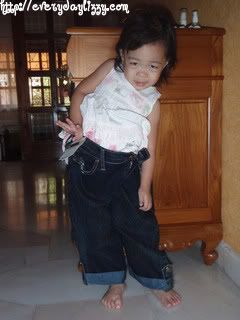 Nope! Still to tight! Hahahaha……
I know what you are thinking. This mummy must be silly! Well, She is just trying her kakak pants. Playful baby! In fact, this picture was took before the previous maid leaved. It's her new jeans.But, baby Elizabeth was busy trying it out. That's cute! Since you like jeans, here you go!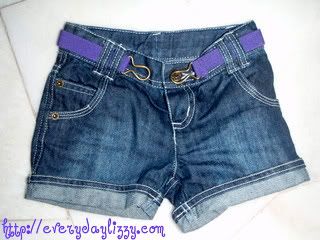 Liz get a new pair of jeans now. Nice aye? She really look so cute when putting it on. 😉
Thus, please stop eating so much. As if  mummy grows fat, I can still click here and look for help. But not you, baby… Little ones can only control your food to avoid overweight, got it?