Posted by Everyday Healy on August 25, 2009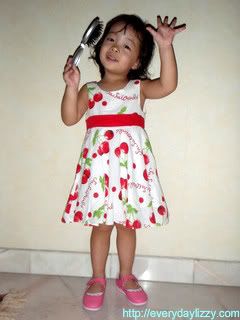 Look at this little vain pot. So cute, aye? 😉
This picture was took in last week as mummy bought the first CROCS for her.  Have a closser look?
Finally, something feminine from Crocs. 😛
Really! She looked so lovely when she wore this shoe out last weekend. Daddy and mummy love it so much. But, as mummy thinks back of the moment mummy bought this shoe for her. That's not so good.
She cried loudly like no one was around in the crowded Qeensbay Mall as mummy asked her to try the shoes in Crocs Retail. Why? She got stucked at the playground.:roll:
So, we tried harder. Then, she cried louder. Eventually, mummy got to walk in and out from the shop and the playground wondering what size to buy. Gosh! That was so embarrassing!

Alright! That's it! Just pay and take it home without trying. Luckily, the size is still ok. And, this lovely pair of shoes make her more like a little lady now. In fact, this little vain pot will put on her lip stick too while she was playing pretend. She also enjoy sharing day and night cream with mummy. LOL!