Posted by Everyday Healy on October 19, 2009
I told you we were shopping at Penang Hard Rock Hotel. This was where we were for lunch last Saturday on the 10th of October.
When we drove around the Cafe, Liz saw something and voice out loudly.
Liz:" Micheal Jackson!" What? Mummy quickly turn around. Very observant! It is Micheal Jackson.
So, mummy wanted to take picture for Elizabeth and MJ as we walked out from the Cafe after we had our meal.
Liz:"I want daddy carry!" I thought you like MJ! 😯
So, this is it. Not the real MJ. But, a big white statue of MJ. 😉 And, may be the statue is kind of scary to little ones. Anyway, baby Elizabeth did had a great time. ( Yeah… It can be hotel, it can be the cinema in the dark or any metal buildings, she will be happy as long as daddy and mummy are hanging out with her. 😛 )
Well, the food was suck! But, nice environment! Precious outing! As we had daddy, mummy, "mama", "ah cho" and little Elizabeth. It's good to have something new in Penang.  Hehe……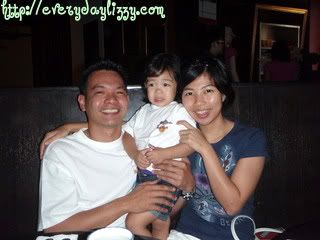 First time ever. Three of us all together in Hard Rock T. Wonderful memory!  😉