Posted by Everyday Healy on October 14, 2009
Yesterday, it's art class again.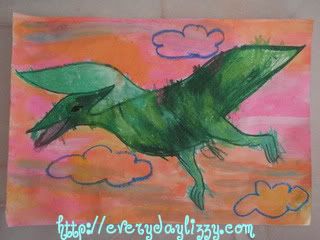 Gosh! Dinosaur for girl? What to do, that's her own request. She told teacher she wanted Dinosaur. So be it. but, this is last week's work. Teacher drew and outlined for her. And, she said she wanted green. So teacher give her about 14 different shades of green. As she must keep on changing crayons (The consequences of high curiosity and less patient I guess). But, she did it! She colored the whole picture. Amazing! Frankly, mummy was so impressed! Well done, baby! 😉
And, this is yesterday's work. Two dancing hearts. Again, teacher drew it for her. She colored. Like last week it's crayon for objects, water color for the background. The choice of colors were so colorful. Really got the dancing mood aye? Mummy like it so much. Teacher said she is kind of a little Picasso. She loves to play with many colors in one object. Should be favoring abstract styles. Wow! Sounds so professional.
Yeah… "It is unique" — the teacher commented. But, this type of child can have very stubborn character. So, it's just like all the other teachers from school used to comment on Elizabeth, "She knows what she wants".