Posted by Everyday Healy on October 15, 2009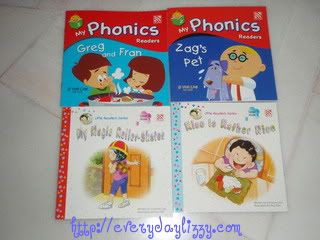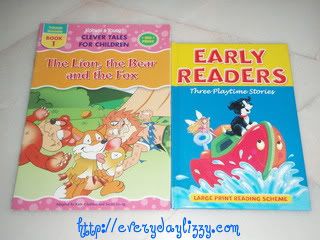 She is reading. Nope! It's mummy. Since last week until now, mummy is reading each and every of these books for her every night. Yeah… it's her new books. Thus get so excited and interested. Anyway, mummy finds the Early Readers Large Print Reading Scheme from MPH is good. So, mummy actually get the other 3 in the set for her yesterday. 

She really loves books. This little wild bee will turn to a well behave Shitzu while mummy was reading for her. Exceptionally patient!  So, mummy keep on buying books. I think just give us a few years, the collection of  her books might made up a mini library.
And, we hardly throw away books. So including all the books mummy and daddy bought for ourselves, the long distance movers should be laughing, if we called up for packing. Then, daddy will be like "Why are we buying so many books in the first place?" while settling the bills. Hahahahaha……