Posted by Everyday Healy on October 18, 2009
Nothing much today even though it's Deepavali. Daddy busy giving speech in an important occasion of his company. Mummy, Mama and Uncle Bill were shopping in the mall while little Elizabeth was sleeping at home. That's it for the whole afternoon.

Somehow, last weekend was fun! It's good to have daddy swimming together with little Elizabeth again, right? And, mummy was so glad I found such a lovely new swimsuit for you while we were shopping at Penang Hard Rock Hotel.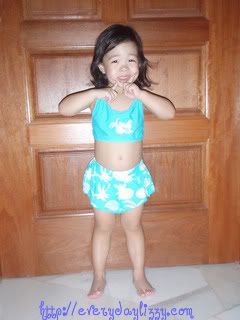 So…… Cute! However, the bottom piece is so loose. You just keep pulling it after you went into the water. Hahahaha…… May be mummy should keep this and buy a smaller size for now. Hehe……
New float! New beach ball too! Hooray! But, you are going to have more fun in the real pool, trust mummy! 😉
Oh! You laughter was precious!  Thus, mummy's hand was busy snapping your your pictures while we were laughing together. Thanks to daddy! 😛