Posted by Everyday Healy on December 1, 2009
Yesterday, mummy and you spend the whole day together. Another previous time for 2 of us. Mummy like it! You followed mummy to bank, electrical shop (SEC), Gurney Plaza, and Tesco. You learn how to use or shall I say press the ATM machine, and you did it gently. Then, you tried every dress that mummy asked you to try. Thus, you got 2 more new dresses now. Mummy just can't resist the sales. Yet, Poney always fits you best.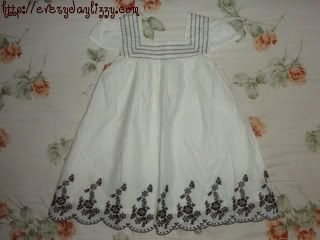 I know you don't really like it now. Trust me! It's very nice. So dainty. Sooner or later, you will love it, especially when everyone started to praise it. Hehe!
You keep nodding your head when mummy asked you weather you like this dress or not. I knew it before I asked, as this umbrella type of dress which can be wide open when you dance and turnaround is always your favorite.

You also wanted to go to Penguin (Puku) shop at Gurney Plaza. But, you agreed to leave together with mummy when I told you we had no time to go to that shop anymore. Very good girl!
Eventually, you said you want to go to Tesco playground. Alright! Since that's the last stop before we went home. Mummy brought you to the playground for 30 minutes. Wow! Playground is still the best place for you to kill your time. But, I am thinking may be tomorrow we can visit the public library. 😛
Hopefully, you truly enjoy your holiday and work hard in school by next year. 😉