Posted by Everyday Healy on December 7, 2009
You got fever since Saturday noon. Again, the fever gone high on Saturday night. Thus, mummy have to keep on sponging and fed you with the paracetamol. you cried out loud as you hate both taking medicine and sponging so much. Sorry, baby!
Alright! Mummy is so happy that you had fully recovered since this morning. Now, mummy is back in mood to continue blogging about your birthday.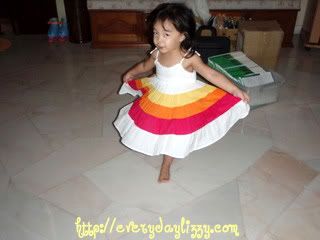 This is what you were wearing on your birthday (4th Dec). It's mummy's present which I bought some time ago once I spotted it at Poney. Then, keep it for your birthday. I knew you are going love it. As that's your style of wearing. And, Yes! You love it so much! 😉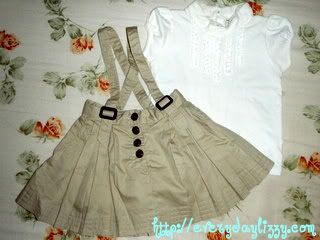 And, this is what you get for your birthday from grandma. Seems like not your style. But trust me. You looks great when you put it on. After all, this is a very unique "English" design. Just as modern furniture is nice, but country home might gives us the feeling of home sweet home sometimes.
Anyway, we will keep this unique dress for CNY, ok? Thanks to Grandma. 😛