Posted by Everyday Healy on January 12, 2010
Today is a special day. It's our family hair cutting day I guess. As "Ma Ma", "Gu Gu" and I, we all went to the salon to cut our hair.
When we first enter the salon, an uncle came by. "No! I don't want to cut my hair."
Mummy:" Why not? I thought you told me you want to cut the hair in front shorter?"
Liz:"No!"
Mummy:" It's fun, baby. See… "Gu Gu"is enjoying the hair cut. So nice, isn't it?"
Liz:"No!"
Later as "Ma Ma" start cutting her hair…
Liz:" I want to see "Ma Ma" cut hair.
Then, an auntie came along this time. And, I said:" Yes!"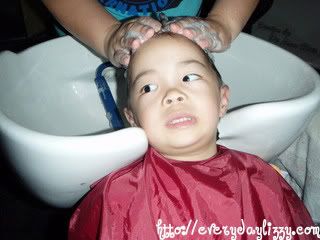 Yike! Is this going to be ok, mummy?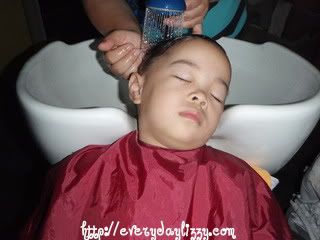 Yeah! Very relaxing……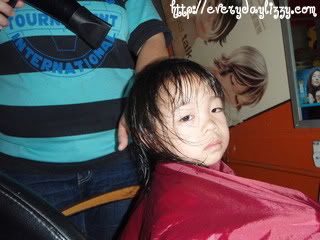 Excuse me! I am not sad or sleepy. I just can't open my eyes big as the air blowing on my head. But, I like it.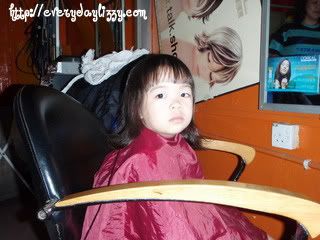 So this is my new look!
Mummy:" Wow! So nice!"
Liz:" Mummy, I am handsome now."
Mummy:" Er… You are beautiful now, not handsome ok?" Hahahahaha……
Yeah… look at you. You simply enjoy all the washing, blowing and cutting in the salon. You even keep looking into the mirror. At the same time pulled your fringe down since you came home. Typical vein pot like daddy. LOL! 😉
Mummy:"I am sure you had fun, right? So next time we will come and let uncle cut your hair nice nice again, ok?"
Liz:"No… I want auntie to cut my hair." Hahahahaha……