Posted by Everyday Healy on January 15, 2010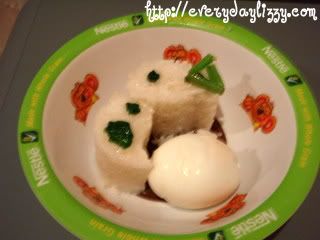 How is it? You called it Sushi. And, that's your bird and fish sushi. The rice seems so delicious to you. of course, it's the fragrance steam pandan chicken rice. But still, you took out every of the vegetables in it without missed. Also, you just leave the boiled egg aside. May be because the boiled egg doesn't look like a fish like mummy promised.
I guess most probably because the bento doesn't seems appealing. Not really nice aye? Don't worry, mummy will work harder on it. First of all I need a nice Bento box. best if it's Hello Kitty. As you are crazy over Hello Kitty ever since I bought the Hello Kitty school bag for you. 😉
By the way, these are the tools I am using for this Bento.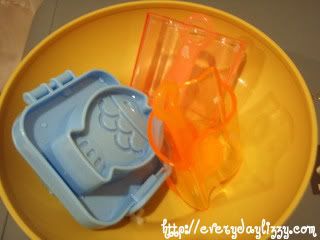 Both the rice shapers were great! But definitely not the egg stamper. Can't get the design at all.  May be I should try using it to shape sweet potatoes or rice.